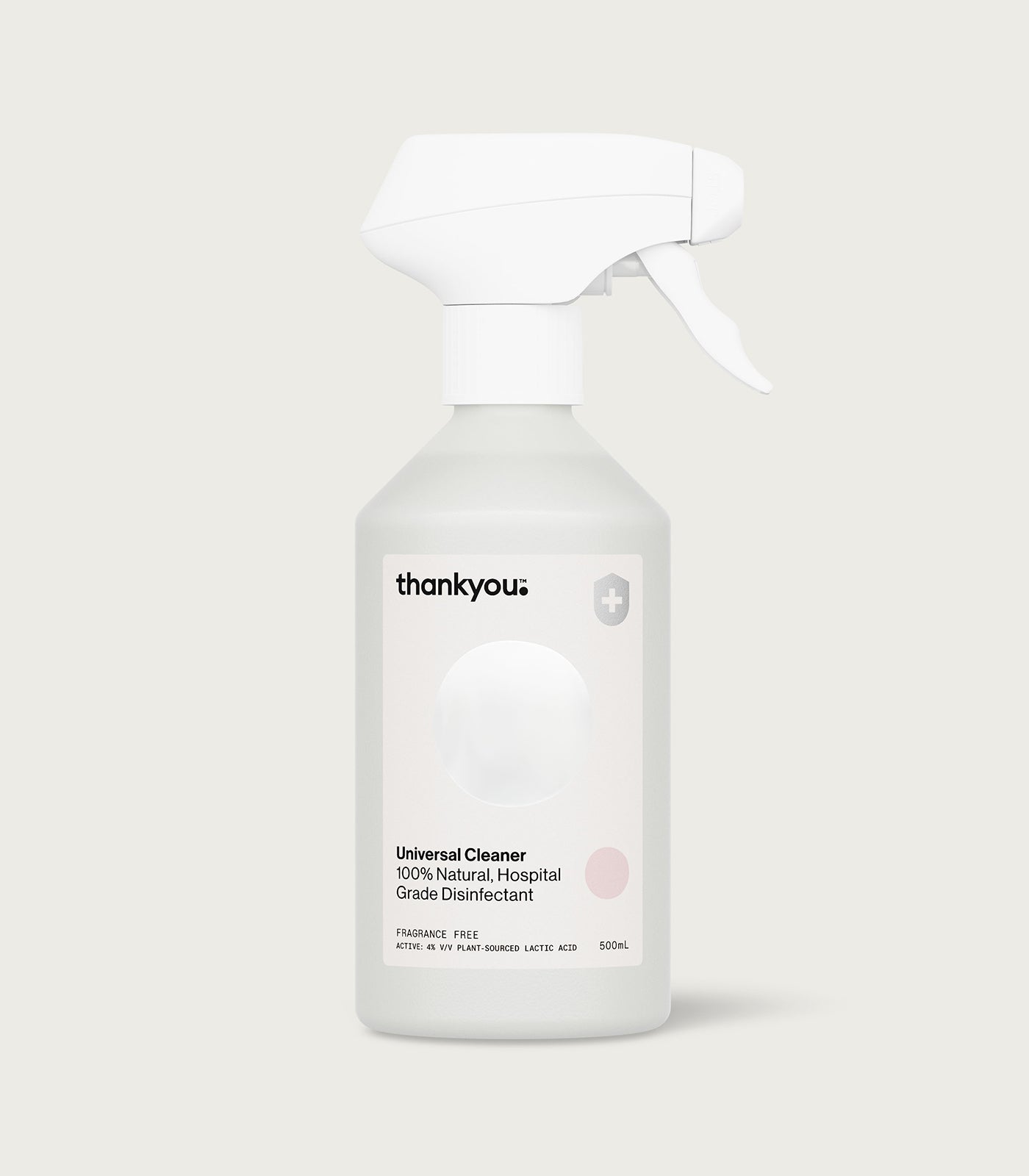 This is the new frontier of cleaning. Our Thankyou Botanical Grapefruit Universal Cleaner is a 100% natural cleaner that provides a Hospital Grade clean at home, minus the nasty chemicals. Add 3 parts water to 1 part formula, you'll have a household grade disinfectant and cleaner*. Add 9 parts water to 1 part formula and you'll have an antibacterial floor and window cleaner**. The best part is it's harmless for repeated incidental skin contact. The gloves are off, literally. 
NO SLS, SLES, ALCOHOLS, QUATS, CHLORINES, BENZALKONIUM CHLORIDE, HYDROGEN PEROXIDE, PARABENS & MORE 
*Household-grade disinfectant (1:3 dilution) kills 99.9% of germs (EN 1276).
**Antibacterial floor & window cleaner (1:9 dilution) kills 99% of germs such as Staphylococcus Aureus and E.Coli (EN 1276).
***Hospital-grade disinfectant listed on the ARTG for use against the virus that causes Covid-19 (SARS-CoV-2) Kills 99.99%. Registration No: 387750.
****Hospital grade only
*****4Eurofins Test: 16th ER 22/038-11. Harmless after repeated (incidental) skin contact. Non-irritant on sensitive skin.
—
DERMATOLOGICALLY TESTED ON ALL SKIN TYPES INCLUDING SENSITIVE
—
KILLS 99.99% OF GERMS****
—
SAFE ON FOOD PREPARATION SURFACES
—
SENSITIVE SKIN FRIENDLY*****
—
TOUGH ON GREASE STAINS AND ODOURS